Painted my Track Bodywork
I bought the Ducati OEM Track bodywork kit. This kit contains body panels that are identical to the OEM pieces except they are just plain white and have no decals.
The kit includes all the fasteners, mirror block off plates, electrical terminators and a front and taillight faux assembly.
The were no instructions with the kit, so referencing the existing parts is helpful when installing the new parts.
The headlight and taillight faux assemblies are the same size as the OEM units except they just have a glossy black finish where the lens would be and have no electrical components. Beacuse of this, the kit contains a headlight, taillight and side stand electrical block offs for the corresponding electrical connectors.
The headlight portion took about 15 minutes to figure out as the air deflectors and the IMU mount come in pieces and are slighly different that the OEM setup.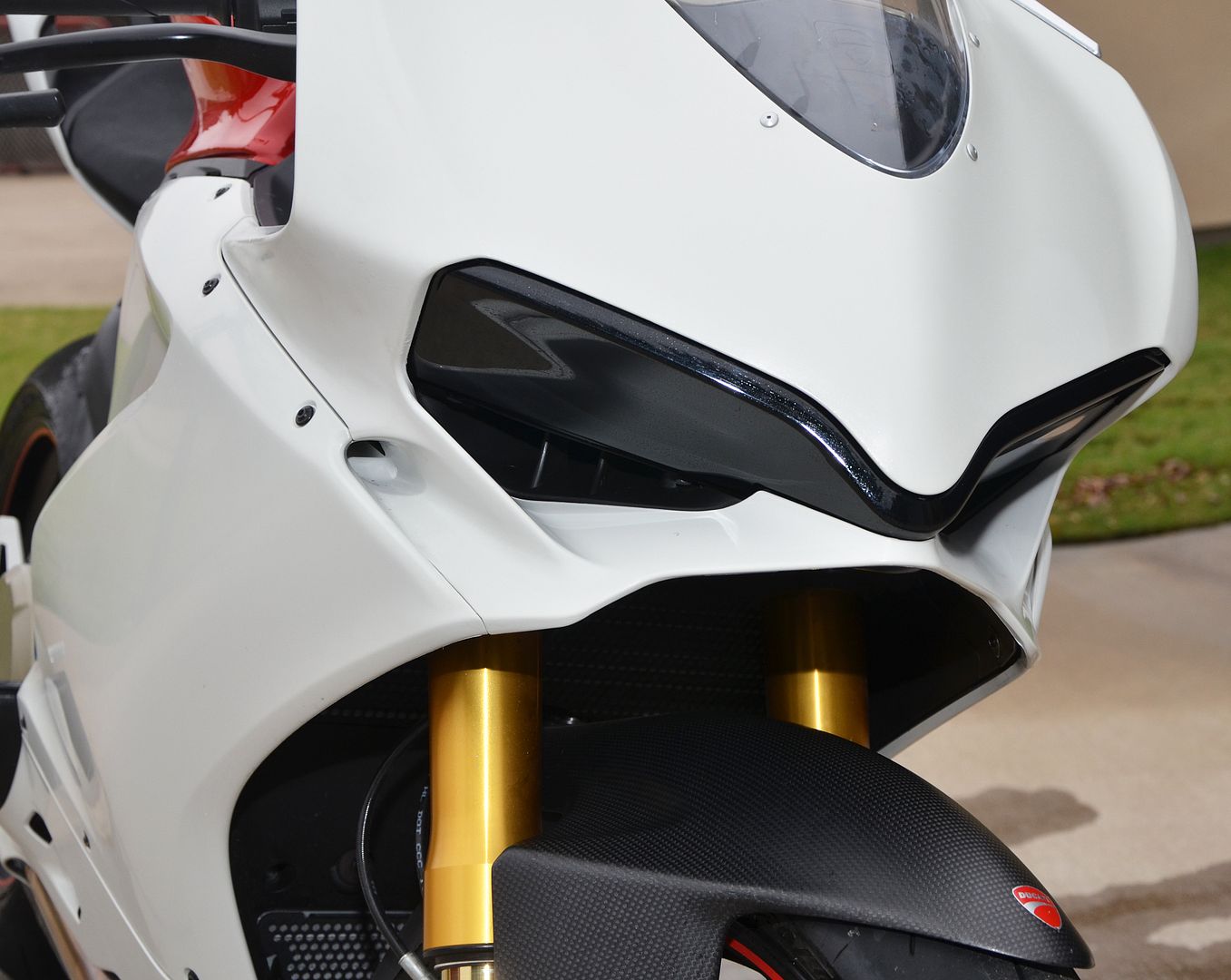 I decided to have a go at painting the bodywork kit myself, so I built a paintbooth in my garage. I stick framed it out of 1" x 3"s and made it 8'L x 7'W x 6'6" high. I restricted the height so I could close my garage door. For the floor I bought three packs of clip together laminate flooring ($45). I used the heaviest polythene sheeting, that stated it was clear, but it's white opaque. For access, I used a 30" screen door ($28). For air flow, I placed a 30" x 20" x 1" filter on the door and a 20" fan on the opposite wall at the floor. This was designed to pull air in high and vent it out low. I placed another filter over the exhaust fan to trap some of the over spray. When painting, I have my garage doors open. At the floor, I tucked the polythene sheet under the walls and used duct tape to seal it to the floor.
The opaque sheeting did let a lot of light in, but was not quite bright enough, so I used a small 4' LED flourescent light as well.
For paints, I used PPG ShopLine, that I sourced from a friend in Nashville who works at a PPG paint store.
When painting I use a 3M 7162 Full-Facepiece Spray Paint Respirator - Organic Vapor and wear a Tyvek suit. I can get in or out of these in about 5 seconds.
I'm using a Devilbiss GFG670 spray gun with a 1.3 nozzle, spraying at about 20psi.
Paint is all ShopLine PPG stuff.
All the bodywork is ABS, so I use a wax and grease remover to wipe down to remove any residual mold release.
I then went and dry sanded, with 400 grit, to remove any imperfections.
First coat was an adhesion promotor. I sprayed this out of a rattle can.
I then sprayed a white primer on all pieces. The was a two part Expoy product mixed 2 to 1. PPG JP371 (Primer White) 2 parts, PPG JH3770 Epoxy Hardener, 1 part. I did not thin this.
The base coat colors followed this. These were Acrylic Urethane products. On the pieces where I sprayed the red, white and green, I sprayed the white first, followed by the red and subsequently the green.
Each of these colors, I thinned 1 to 1 with PPG JR5580 Slow Urethane Reducer.
I sprayed these on in multiple, very light coats about 15 minutes apart.
After these I applied a few decals that I would clear over.
For the clear, the products were Acrylic Urethane, two part Clearcoat and Hardener, mixed 2 to 1. The ShopLine part numbers were JC660 and JH6680.
I screwed up the first attempt at this, I sprayed these on in light coats and the finish did not wet out and flow and ended up with a sand paper like finish. I then sprayed on, with multiple light passes until the clear was wet and flowed, but not enough to cause a run. Other than a few paint nibs, this finish was good enough to put straight on the bike without any further finishing.
I got a few spots of orange peel, these I sanded out with various grades of wet and dry from 600 to 2000.